Do you want information or to apply for La Plateforme/Start training?
In 1 year, become a digital professional!
DEVELOPMENT // NETWORKS // SYSTEM // HARDWARE
Duration
12 months including
6 months alternation
Modality
40% school
60% company
Certification
RNCP Niv BAC to Bac+2
NEXT ENTRIES: MARCH 2023, SEPTEMBER 2023
12 months to become a digital professional
digital professional
Who is the training for?

The training is open to all. It is particularly aimed at people wishing to access positions in the digital field and who cannot afford to follow a "long" training course (3-5 years).
(people wishing to access employment quickly, +25 years old, far from employment, registered at the employment center).
The training lasts 12 months, and is fully covered financially. You will be paid during the 6 months of alternation.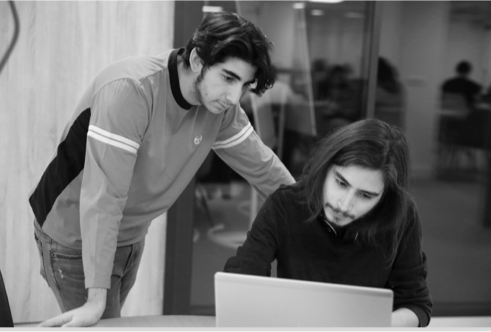 Description of the training
The training begins with a 3-month "starter" (September - November) during which
4 topics are covered:
1. Hardware: What are the components of a computer? How do they work? What are their relationships?
2. System : Installation of virtual machines, operating systems, linux, command lines, installation of services
3. Network: How networks work, communication between devices, IP addressing
4. Programming: Code logic, algorithms
At the end of the starter you can choose among
3 specializations offered:
1. Web development
2. Networks and IP telephony
3. Computer maintenance and troubleshooting
3 intense months allow you to gain competence in
your chosen specialization in order to join a company in March.
The work-study program lasts 6 months
at a rate of 60% in the company and 40% in the training center.
At the end of the training, you can choose to continue to practice your profession within a company or continue your training within the Bachelor IT.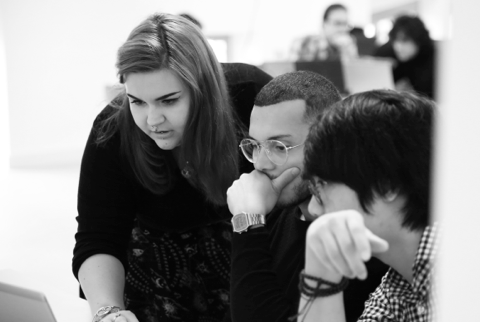 3 months to discover computers
from March to May 2023
hardware - network - system - dev
100% school
Orientation/Choice of career
You will then have the opportunity to
to specialize in one of
of the three options ↓
9 months to choose a profession
Web and Mobile Web Developer
from June to August 100% school
from September to February 100% work-study
Title delivered RNCP niv 5
Possibility of prosecution
Bachelor IT in 2nd year (2 years)
Web development
Networks and IP telephony
from June to August 100% school
from September to February 100% work-study
Title delivered RNCP niv 4
Possibility of prosecution
Bachelor IT in 2nd year (2 years)
Security Admin
from June to August 100% school
from September to February 100% work-study
Title delivered RNCP niv 3
Possibility of prosecution
Bachelor IT in 1st year (3 years)
Specialization to choose
Specialization Web Coding
➔ Web Developer
➔ Frontend Developer
➔ Web integrator
➔ Backend Developer
➔ Fullstack Developer
IP Telephony Specialization
➔ Telecom Technician
➔ Computer Network Technician
➔ Telephony Technician
➔ Deployment Technician
➔ Customer Service Technician
Specialization IT Maintenance
➔ Computer Maintenance Officer
➔ Repackaging Agent
➔ Recovery agent
➔ Deployment Technician
➔ Service Technician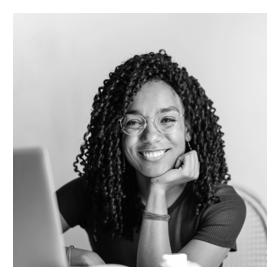 "The best thing about the Platform is the diversity
of students, we learn from each other, we work as a group, and we are
in groups, and we are trusted completely."
More than 80% of the graduates obtain a permanent contract or a fixed-term contract of more than 3 months after this training.
A huge space, in the heart of Marseille, reserved for collaborative work.
The percentage of our students who recommend The Platform.
Presentation of the school La Plateforme
La Plateforme is a digital and new technologies school co-founded with the Top 20 Club, which brings together the major companies of the Aix-Marseille metropolitan area. Our objective: training of excellence accessible to all, supported by an innovative pedagogy and a constant concern for employability
An active pedagogy
La Plateforme's unique pedagogical model adapts to each profile. It is active and inductive, project-oriented and learner-centered.
Expert speakers
Trainers and lecturers are selected from among qualified professionals who are still active, experienced in the latest techniques and business needs.
Excellence at no cost
Tuition is free for the learner without compromising the quality of the training. Each year, La Plateforme certifies 90% of its learners.
A network of companies
Since its inception, La Plateforme has surrounded itself with a large network of partner companies, facilitating access to apprenticeship and employment.
How much does it cost?
Tuition fees are completely free
for learners. During your work-study period you will be paid by the company.
Is my employability guaranteed?
The Platform trains for the most sought-after jobs today. Within companies, there are many opportunities and the work-study program will provide you with a first professional experience in the job title you have chosen.
Is the training recognized?
The La Plateforme / Start curriculum trains you in several IT and digital professions. All the courses lead to certification and enable you to obtain a Level 3 to 5 RNCP professional title. You also have the possibility to go on to a Bachelor IT, certified RNCP Level 6 equivalent to a BAC +3.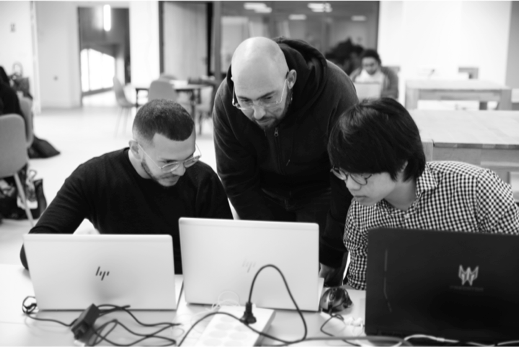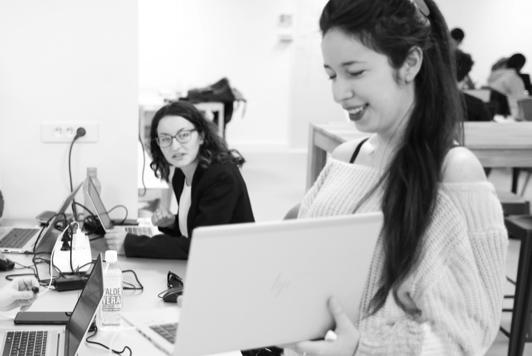 Will I get help to find a work-study program?
The Platform is supported by a network of partner companies. We make sure to facilitate contact between our students and companies in the region and elsewhere. Our company relations team will help you in your search for a job and put you in touch with them.
How is the selection made?
It is accessible without prejudice of level or resources and totally free for the learner. There are no age requirements. After submitting your application, you will have to take a test, which will guide you to the stage of training that best suits you. Computer knowledge is not essential for selection, but maturity, desire to learn and collegiality are the most important factors in the selection process.