Interdisciplinary innovation bootcamp, from complex problem analysis to functional prototyping. Free training thanks to our partners.
Concept of the Innovation Lab
The Innovation Lab is a postgraduate innovation learning facility.
Each class is interdisciplinary and brings together a variety of profiles from the fields of design, technology, social sciences and entrepreneurship.
Each lab works on a specific theme, and explores concrete issues identified with the Platform's professional partners.
The Innovation Lab places societal impact at the heart of its objectives, and offers courses that open up to models of circularity, decentralization, co-design and eco-design.
The purpose of the lab is to develop a strong capacity for systemic analysis of today's challenges in a digital society.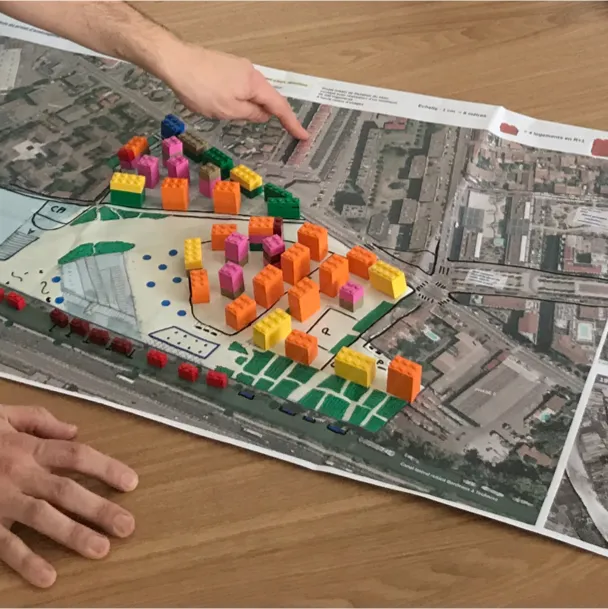 Living in the future:
co-constructing with users
What tools, protocols and experiences can be devised to involve users in the design and management of tomorrow's habitat?
From March 28 to July 13, 2023 (16 weeks)
4 weeks online,
12 weeks at La Plateforme, Marseille
Young graduates, professionals in transition, researchers, freelancers... we select complementary talents to form interdisciplinary teams:
Innovation tools and methodologies from design practices
The skills needed to participate in the realization of collaborative projects
An expertise on the topics addressed
Completed projects to be highlighted in their portfolio
"
The lab has accelerated meetings with professionals I've wanted to meet for a long time. it's a great networking opportunity
"
The lab was a great transition time between my studies and the professional world. I found tools to complete my methodology and a way to put my thinking
"
The lab gave me a lot of confidence in my ability to manage an innovation project, it allowed me to put words to my skills after a professional reconversion
"
Thanks to the Habiter demain lab, I learned concrete techniques for integrating users into my work as a designer, which was not my way of doing things before
Project Liberty aims to build a new foundation for the digital society, where citizens will once again have control over their data, where ethical principles will be an integral part of the technologies, with economic opportunities for both Internet users and developers.
See the Project Liberty website
Banque des Territoires
Caisse des Dépôts is a public financial institution that carries out public interest missions in support of public policies. As a trusted third-party manager, long-term investor and lender, Caisse des Dépôts facilitates the implementation of innovative, sustainable and solidarity-based projects and participates in the country's economic development. Banque des Territoires has been supporting the Innovation Lab Habiter Demain since 2020.
See the website of the Banque des Territoires